---
SPACE … THE FINAL FRONTIER

Many of you know this sentence, and it seems that it´s a fascinating and inspiring topic not only for electronic musicians, but also for filmmakers, writers and painters.
For many years I had this idea of writing songs about our solar system. Each planet has its own characteristics and particularities, so there would be enough to write about.
When NASA celebrated the 25th anniversary of exploraitons by the Hubble telescope in Spring 2015, the time was right for me too, to sit down and start writing. Incidentally, I almost finished my work when the NEW HORIZON probe reached Pluto in July 2015.
---
Here we are: 16 songs on two CDs:
The Inner Planets:


Mercury – Venus – Earth – Mars

The Outer Planets:


Jupiter – Saturn – Uranus –
Neptune – Pluto
Although Pluto has lost its status as a planet, this small guy represents the outpost in our system and therefore I included him on the second album.
To set up this journey completely my starting point was the center of our system: The Sun and therefore it seemed to be logical to choose the outer area of our solar system as the closing point: The Kuiper Belt.
SOURCES
---
To compose tracks for such a scientific topic it´s important to have sources you can absolutely rely on and find some inspiration too. I found both on sites on Wikipedia (content) and on NASA (content and pictures).
PRODUCTION TEAM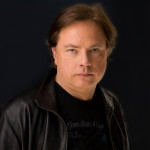 ---
Also, I was lucky enough being supportet by 2 other musicians: Ewald Pfleger (mastermind of the austrian top band OPUS) contributed an awesome guitar part on "The Dark Spot" as well as british Jazzkeyboarder Mark Dorricott played some fantastic piano melodies on "The Second Day" and "Waves".
Andreas Schwietzke (one of the best CGI-artists I know) joined the team too and designed the complete booklet for the CD edition. He mixed up original NASA pics with some of his own space templates into breathtaking pictures, which make the CDs a truly collectable item!
---
Finally, when it comes to a professional mastering job, you need someone who understands your music and vision. It wouldn´t work if the sound engineer could not identify himself with the ideas of the composer. Thanks to John Morado and his amazing mixing abilites I can offer you a high quality vision of my journey.
WHERE TO BUY?
If you like to purchase the digital version, feel free to take a look here
(as well as on many other Download Stores!):
CDBaby | Bandcamp | iTunes | Amazon.de | Amazon.co.uk | Amazon.com
If you like to purchase the CD you can do so on my website:
[Intro] – To The Stars (02:50)

[Sun] – Nuclear Fusion (09:04)

[Mercury] – Orbium Celestium (07:14)

[Venus] – Alpha Regio (08:26)

[Earth] – The Second Day (feat. Mark Dorricott) (09:14)

[Mars] – Olympus Mons (08:18)

[Jupiter/Europa] – Waves (feat. Mark Dorricott) (10:56)
[Saturn] – Rings Of Beauty (09:36)

[Uranus] – Magnetic Fields (10:14)

[Neptune] – The Dark Spot (feat. Ewald Pfleger) (09:52)

[Pluto] – The Long Way (07:06)

BONUS TRACKS

Kuiper Belt Part One (12:19) and Part Two (09:55)
25 years (Ode to Hubble) 7 inch Remix (04:30) &
12 inch Remix (06:56)

ALBUM CREDITS:



All tracks written and played by Stan Dart. All guitars on "The Dark Spot" by Ewald Pfleger. Piano and additional synths on "The Second Day" and "Waves" by Mark Dorricott. Final mix and mastering by John Morado, at Remixx-Studios, Graz. All graphics by NASA. Artwork by Andreas Schwietzke.
© 2015, DART_PRODUCTIONS. All rights resevered.