MurInsel, Vol. 2

---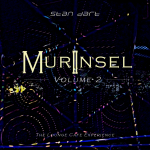 Review (excerpt) by
Sylvain Lupari (Synth&Sequences)
So, we have an album focused on accessible music with good rhythms that are easy to put in the ears and melodies not too complicated to remember. The panorama is lunar where tunes are always tinkling melodies that evaporate in dense orchestral effects, the simulacrum of dance music. And if you thought that the source had gone extinct on MurInsel Vol.1, there was probably some music following this festival that was held on the island of Murinsel in Austria in July 2018. The proof lies in this MURINSEL Vol.2, an ideal album for beautiful summer days with friends
Full review can be found here: Synth&Sequences
Review (excerpt) by
Jonathan Widran (The JW Vibes)
With relaxing, easy grooving, lightly jazzy melodies and dreamy floating soundscapes that may remind listeners of the best of Paul Hardcastle and Jazzmasters, the music of Austrian born ambient/electronica composer/synthesis Stan Dart can be enjoyed by everyone who needs a chillout/time out from this increasingly frenetic world.
Full review can be found here: The JW Vibes
Review (excerpt) by
Will Lücken (EMPulsiv.de)
Auch wenn es "nur" Chilloutmusic ist, der interessierte Hörer kann sich auf klangvolle Electronic freuen (Anspieltipp: "Nachtflug"). Ein gehobenes Niveau ist mittlerweile Standard bei Stan Dart.
Full review can be found here: EMPulsiv.de
SEASIDE (with Mark Dorricott)

---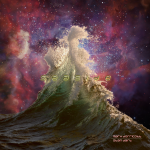 Review (excerpt) by
Sylvain Lupari (Synth&Sequences)
If you enjoyed Midnight, I hear no reason for it to be different with SEASIDE. For this second collaboration, the duo Dart & Dorricott does in the original by offering an impressive collection of 16 original titles which float in the perfumes of an Electronica easy to tame, without industrial nor psybient artifices
Full review can be found here: Synth&Sequences
Review (excerpt) by
Jonathan Widran (The JW Vibe)
You don't have to be a "Blade Runner" fanatic to appreciate and enjoy Seaside. But if you are, you may start hoping some writer and director out there hear it and start translating it to an onscreen narrative.
Full review can be found here: The JW Vibe
Review (excerpt) by
Stephan Schelle (musikzirkus-magazin.de)
Wie schon mit "Midnight" haben Mark Dorricott und Richard Hasiba aka Stan Dart ein wundervolles Elektronikwerk geschaffen, in das man sich fallen lassen kann, da die Klänge die Ohren des Hörers umschmeicheln, ohne ins Belanglose abzudriften.
Full review can be found here: musikzirkus-magazin.de
Review (excerpt) by
Will Lücken (EMPulsiv.de)

Als wären die zwei vorherigen Alben von Stan Dart nur ein Aufwärmtraining vor der großen Show, denn mit dem neuen Doppelalbum "Seaside" hat der Künstler aus Österreich ein Meisterwerk kreiert. Zusammen mit dem Pianisten Mark Dorricott aus England ist Elektronische Musik von exzellenter Qualität entstanden!
Full review can be found here: EMPulsiv.de
MURINSEL, VOLUME 1
---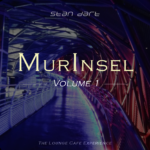 Review by
Will Lücken
Nach dem Ausflug in die sakrale Welt von "Ecclesia" und dem Spacetrip "Supernova" zeigt Stan Dart erneut wie facettenreich sein Klangkosmos ist. "Murinsel" ist schnörkellose Chilloutmusic – nicht unbedingt für sonniges Strandclub-Feeling, sondern allwettertauglich wie die charmante Cafe-Insel auf der Mur in Graz. Prächtig im Klang, dezent im Rhythmus und reich an subtilen Melodien. Mein Favorit Track 7 verbindet alle drei zuvor genannten CDs.
Review (excerpt) by
Sylvain (A.K.A. Phaedream) Lupari
(synthsequences.blogspot.co.at)
I like this fluid structure of 63 minutes where Stan Dart moves from one genre to another and a rock to a ballad with a specific place for an astral ambient texture. It's very musical, really melodious at times in more of being lively and dancing.
SUPERNOVA
---
Review (excerpt) by
Stephan Schelle
(www.musikzirkus-magazin.de)
Auch wenn das neue Album von Stan Dart aka Richard Hasiba nur gut 39 Minuten an Spielzeit aufweist, so verströmt es doch die Faszination, die Richard bereits auf seinen vorangegangenen Alben verströmte. Wer die bisherigen Veröffentlichungen von Stan Dart mag, der kann hier blind zugreifen.
Album of the month (Magazine BEAT 03-18)
>>Click on the graphic to enlarge<<
Review by Tobias Fischer
(www.beat.de)
Review (excerpt) by
Sylvain (A.K.A. Phaedream) Lupari
(synthsequences.blogspot.co.at)
The numerous synth solos are a surprise with this Berlin School approach whipped by good rhythms which are not too much draining for our eardrums. At this level, Richard Hasiba succeeds to find the right balance. It clicked for me when I was listening carefully the title-track. Then, nothing else could break the link. It's solid EM with a right vision of what Berlin School can bring to EDM. At the end, this is a very good album which starts the activities 2018 of SynGate on the right foot.
Review by
Will Lücken
Das phänomenale Doppelalbum "Ecclesia" zu toppen ist schon eine
Herausforderung, zumal es eines der besten Alben in 2017 war.
Stan Dart hat andere Ambitionen – er startet mit seiner
neuen CD in den Weltraum. Wie der Künstler mir vorab erklärte,
ist der Schwerpunkt bei den Kompositionen das Prinzip der Dualität.
In den vier Tracks (zwischen 8 und 13 Minuten Länge) versucht
Stan Dart immer zwei Instrumente miteinander harmonieren zu lassen
oder zwei kleine Themes zu einem großen zusammenzubauen.
Anlass dazu ist der Bau des neuen Planetariums im
"European Southern Observatory" bei München. Die Architektur des Gebäudes spiegelt ein 2-Sterne-System wieder, bei dem der kleinere Stern vom größeren "aufgesaugt" wird und dabei dann der Große explodiert – also eine Supernova entsteht. Musikalisch klingen die ersten drei Tracks voll rhythmisch treibend, leider auch ziemlich oldschool, etwas gewöhnungsbedürftig wenn man schwebende Space-Music erwartet hat.
Egal, denn in "Zero G" entwickelt sich nach wenigen Minuten ein
pulsierender, starker Beat, der mich an "Frankie Goes To Hollywood"
erinnert. Stan Dart versteht sein Handwerk. Er ist mittlerweile einer
der ganz Großen in der Szene. Der letzte Track allerdings ist ein
Highlight der originären Space-Art. In "Seeds Of Life" floaten
geheimnisvolle, düstere Klänge durch den Weltraum. Es erinnert
in seiner Machart an die famose, kürzlich erschienene "Einlassmusik"
von SCHILLER. Doch leider endet dieser exzellente Track
(obwohl er knapp 13 Minuten Länge aufweist) viel zu früh.
Das verlangt eine Fortsetzung, lieber Stan Dart!
Für Electronic-Freaks unbedingt empfehlenswert – das ganze Album.
ECCLESIA
---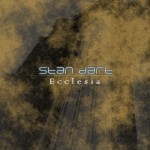 Review (excerpt) by
Stephan Schelle
(www.musikzirkus-magazin.de)
Die CDR hätte aus meiner Sicht eine Veröffentlichung auf einem Majorlabel verdient gehabt, denn qualitativ steht sie in keinem Unterschied zur Musik von Schiller oder Enigma, deren Stilistiken zwischendurch aufblitzen.
Review (excerpt) by
Sylvain (A.K.A. Phaedream) Lupari
(synthsequences.blogspot.co.at)
"The wide range of rhythms we find in Ecclesia is largely dominated by vibes a la ERA and Enigma, but also by these obsessing melodies which are Stan Dart's signature"
Review by
Will Lücken
Was würde passieren, wenn man das hochgelobte "DOM"-Album von Blank & Jones irgendwie fortsetzen würde? Der Österreicher Stan Dart hat's getan und das Resultat ist ein Doppelalbum mit dem Titel "Ecclesia". Anstelle des Kölner Doms ist hier der Grazer Dom Schauplatz für die sakrale Klangwelt. Doch damit nicht genug, Stan Dart fügt einen Hauch von Enigma-Atmosphäre hinzu. Die Messlatte ist hoch gelegt – das Ergebnis ist grandios!
Mit Songwriterin und Vocal-Coach Petra Bonmassar tat er einen Glücksgriff, denn die Sängerin ist eine Wucht. Der Song "Malum – The Evil" mit einem Goethe-Text als Strophe und einem in Englisch gesungenen Refrain bohrt sich tief ins Gehör – und kommt nicht mehr raus. Stan Dart ist ein ausgezeichneter Klangtüftler, der den Koryphäen dieses Genre in nichts nachsteht. Gleich die ersten Tracks sind ansteckend rhythmisch. Das geht hammerstark in Mark und Bein. Mein persönliches Highlight allerdings befindet sich auf der zweiten CD: Nach der geschmeidigen Vertonung eines Psalms aus der Bibel ("Lacrimosa") fliegt der Hörer im sensationellen "Exsurge Domine" wie schwerelos durch den Dom und weit hinaus in die Nacht – bis Regen fällt. Mönchgesang und warme Flächensounds verschmelzen ineinander bis die Realität (in Form von Straßenlärm) diesen Traum beendet – dann jedoch in das fantastisch gesungene und dynamische "Via Laboriosa" übergeht. Hier zeigt Petra Bonmassar nochmals ihre herausragende Qualität. Neben ihr partizipieren noch andere Künstler an dem Projekt wie z.B. der Pianist Mark Dorricott. Spannende Electronic – von düster bis genial. Auch die alternative
Chilloutversion von "Vita" müsste in allen Strandcafes der Welt zur
Grundausstattung gehören. Es war ein gewagtes Unternehmen, letztes Jahr in Köln, mit den drei elektronischen DOM-Konzerten, doch über fünfzigtausend Zuschauer waren begeistert.
"Ecclesia" von Stan Dart ist stilistisch ähnlich – dennoch völlig anders, mehr Rhythmus, mehr Gesang, kurz gesagt: Weltklasse!
HOMETOWN MEMORIES
---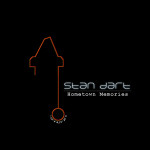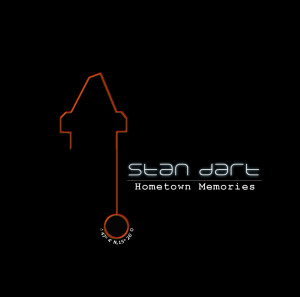 Review (excerpt) by
Stephan Schelle
(www.musikzirkus-magazin.de)
Mit "Hometown Memories" hat der Österreicher Richard Hasiba aka Stan Dart ein sehr schönes musikalisches Statement über seine Heimatstadt abgegeben. Während die erste CD vornehmlich symphonische Stücke enthält und folgerichtig mit "Soundtrack Side" betitelt ist, zeigt sich die zweite CD von der rhythmischen und teils tanzbaren Seite. Ein sehr schönes, abwechslungsreiches Album voller herrlicher Melodien.
Review (excerpt) by Will Lücken
(will.alpendeich.de)

"Man erkennt immer wieder,
dass Stan Dart ein Faible für erstklassige Chilloutmusic hat."
Full german review can be read here
ACCELERATOR
(Collaboration with Alien Nature)
---
Review (excerpt) by
Sylvain (A.K.A. Phaedream) Lupari
(synthsequences.blogspot.co.at)
"Accelerator" is a striking album of EM which plays constantly between the borders of the New Berlin School model and the IDM (or EMD according to) where the electronic and symphonic rock of Alien Nature lives without shade in the Electronica approach of Stan Dart. It's great EM!
TALES FROM THE SOLAR SYSTEM
(feat. Ewald Pfleger & Mark Dorricott)
---
Review (excerpt) by Will Lücken
(will.alpendeich.de)
"Sein neuestes Werk ist ein packender Space-Trip vom Zentrum unseres Solarsystems, nämlich der Sonne, zu den inneren und den äußeren Planeten. Noch nie habe ich solch eine pulsierende Dynamik in einem originären Spacetrack gehört – Weltklasse!"
Full german review can be read here
THE NEON CITY CHRONICLES
(Collaboration with Andreas Schwietzke)
---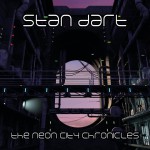 Review (excerpt) by Will Lücken
(will.alpendeich.de)

"Ein atemberaubender, analoger Sound, der sich von diversen Einflüssen aus Industrial bis Gothic, Trance bis Ambient nährt und dennoch zeitlos wirkt." Full german review can be read here
Review by Tobias Fischer (www.beat.de)
In the mid-nineties was a break in electronic music history. The seventies and eighties were coined by artists and bands that followed the area of the rock and improvisation tradition. They highly valued melodic elements and served a meditative hearing experience. With the rise of intelligent dance floor music that importance decreased and producers in the area of hip-hop and electro eventually took over. They converted clubs into temples of innovative approaches. We owe to this generation change many fabulous albums as well as a fascinating broadening of the sound palette. Nonetheless, at the same time something was lost – the narrative magic of songs which are structured as classic symphonies. In the album 'The Neon City Chronicles' these two strings of electronic music are again united. Dance-references form in Richard Hasiba's sixth album the rhythmical base for up to fifteen minute long compositions in which absorbing synthie-patterns are driven by piano chords. Drum loops meet classic instruments and sweet motives unite with pulsing sequences. Naturally, these sound gimmicks are subliminally interwoven into dense structures; recordings from passing by cars become a dominant element. But, neither these fine details nor the wondrously skilful unison of different styles and music eras create the magic of 'The Neon City Chronicles'. In fact, the dazzling waves of suspense which make the great Russian story-tellers look pale dominate the action. This time Hasiba might have gone deeper than ever before as these fantastic spaces offered to him the opportunity to handle his father's sudden and shocking death. However, you will never leave the Neon City in tears but with a smile on your lips.

PICTURES AT AN EXHIBITION
(Collaboration with Andreas Schwietzke)
---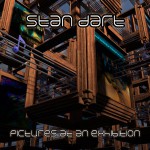 Review (excerpt) by Will Lücken
(will.alpendeich.de)

"Ein neuer Stern leuchtet am Electronic-Himmel. Seine schimmernden Strahlen kollidieren mit dem grellen Feuerlicht aus Underworld."
Full german review can be read here
Review (excerpt) by Stefan Schelle (www.musikzirkus-magazin.de)
"Eine Mixtur aus "Eindhovener Schule" und Soundtrackmusik mit herrlich tranceartigen Beats … Die Musik auf den beiden Alben ist mitreißend und geht gut ins Ohr. Er schafft es dabei bekannte Muster mit frischen neuen Elementen zu verknüpfen."
Full german review can be read here
ORBITAL FLIGHT
---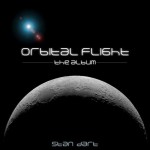 Review (excerpt) by Stefan Schelle (www.musikzirkus-magazin.de)
"Auch "Orbital Flight" ist ein wirklich gelungenes Elektronikalbum des Österreichers Richard Hasiba aka Stan Dart. Damit hat er in 2014 drei wirklich gute Alben veröffentlicht. Die CD ist sehr empfehlenswert."
Full german review can be read here
EVENTS
(Collaboration with Mark Dorricott)
---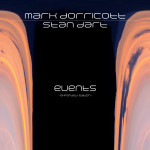 Review by Tobias Fischer (www.beat.de)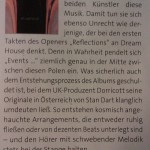 Review (excerpt) by
Sylvain (A.K.A. Phaedream) Lupari
(synthsequences.blogspot.co.at)
"Following Midnight, Events is an album where the Chill Out and the ambient Dub spread its melancholic movie approaches in the fragrances of a synth-pop or a dance music of the 80's"
MIDNIGHT
(Collaboration with Mark Dorricott)
---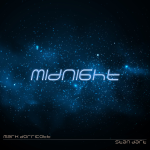 Review by Tobias Fischer (www.beat.de)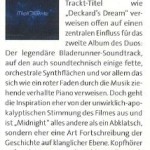 Review (excerpt) by
Sylvain (A.K.A. Phaedream) Lupari
(synthsequences.blogspot.co.at)
"Great moods and great beats, this Midnight is quite a surprise which mixes splendidly ambiences for film which aims to be like a sort of suite of Blade Runner and of Vangelis' music"
Articles in the newspaper "Der Grazer"
written by Vojo Radkovic (www.grazer.at)
---